Story of Alpine Helen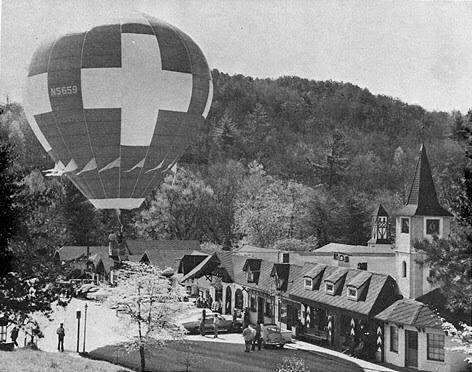 Prior to 1800, this area was the center of Cherokee Indian culture, with villages scattered throughout Nacoochee and what is now known as the Sautee and Nacoochee valleys. A town meeting house was located on top of at least one of the four ceremonial mounds in Nacoochee Valley. In 1813 the Cherokees approved construction of the Unicoi Turnpike, a wagon road through their Nation from the Savannah River headwaters to northeast Tennessee. This trail, now Highways 17 and 75, ran through the valleys toward Hiawassee.
The Cherokees left the area on this "Trail of Tears", and were replaced by white settlers.

Gold was discovered on Dukes Creek in Nacoochee Valley in 1828. The Great Georgia Gold Rush belt was bound by Dahlonega on the west and Nacoochee-Helen Valley on the east. Thousands of miners came into the Valley and mined in the foothills for over one hundred years, generating thousands of pounds of gold. The historic England Gold Mine, site of Helen's current gold mine, and Hamby Mountain were mined extensively. Mining operations ceased by the end of the century, and settlers moved on.

Timber officials came into the Valley, saw huge virgin timber, and built a great sawmill called Matthews Lumber Company. Simultaneously, the Gainesville and Northwestern Railroad came up along side the Chattahoochee River to Helen. In 1913 the Valley was named "Helen", after the daughter of the railroad surveyor. The lumber company, located in the center of Helen on the Chattahoochee River, continued sawmill operations until 1931, shipping to Europe and the US until all timber was cut. Settlers again left for opportunities in other places. By the 1960's, there was nothing left except a dreary row of concrete block structures.

In 1968, local businessmen met to discuss what could be done to improve their town. They approached a nearby artist friend, who had been stationed in Germany. He sketched the buildings, added gingerbread trim, details and colors to the buildings, giving an Alpine look to the entire town. In January 1969, business owners and local carpenters began turning ideas into reality. Now all downtown stores and many buildings have been renovated. Cobblestone alleyways were added. Faces of buildings were painted with scenes of Bavaria and North Georgia, mirroring the migration of early settlers.

Helen hosts its own Oktoberfest Celebration during September and October every year. There are lots of hikers and motorcyclists late October and early November, when autumn leaves typically peak in their vast array of color. There are many events and festivals throughout the year. Helen is no longer a sleepy town in Winter. Shops, restaurants and activities remain open year round. The Lighting of the Village takes place the Friday after Thanksgiving and the holiday lights on through February for visitors to enjoy. From Memorial Day to Labor Day, the Chattahoochee River that runs through Alpine Helen is open for tubing and all year round for trout fishing.

Unicoi State Park and Lodge, spanning 1,050 acres, is located immediately northeast of Helen on Georgia 356. The park encompasses Unicoi Lake, a 53-acre freshwater lake, offering outdoor activities for all seasons. Among them are a swimming beach, trout streams, wheelchair-accessible fishing docks, seasonal canoe, kayak and paddle boat rentals, seven picnic shelters with charcoal grills, three playgrounds for children, many spots for birding, 7.5 miles of hiking within the park (with adjacent trails in the Chattahoochee National Forest), 8 miles of mountain biking trails within the park, and plenty of places to enjoy the natural beauty of the lake and park. Access to Anna Ruby Falls, part of the Chattahoochee National Forest, is located through the park.

Smokey and the Bandit (1977) filmed a scene on Chimney Mountain Road which is just outside of Helen.

Helen, Georgia located a short 1.5 hours from Atlanta in the North Georgia Mountains is a small very quaint Alpine Village with something for everyone to do, fishing, swimming, tubing down the Chattahoochee River, rafting, hiking, golf, horseback riding, and much more. You can also enjoy a romantic carriage ride or enjoy international dining. Visit the national forests, waterfalls, or just take a leisurely scenic drive.